Learn How to Prevent a Ransomware Attack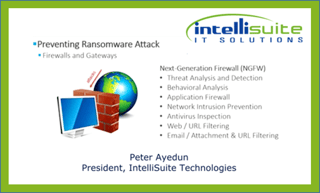 Protect Your Network Before a Ransomware Attack
Learn how to protect your network from a ransomware attack with this video highlighting the critical security practices you need to put in place now. Peter Ayedun, President of IntelliSuite IT Solutions, presents the key components of a layered security strategy to help keep your network secure. He'll educate you on the only way to guarantee you will restore your data safely, but you need to put it in place before you are attacked.
What you will learn in this Video:
The basics of Ransomware and why it is so dangerous.
The key elements of a successful layered security strategy.
What is white listing and why is it critical to preventing ransomware.
The one critical task you must do now to guarantee that you can restore your data without paying the ransom.
To learn more about how to implement these ransomware recommendations, call IntelliSuite IT Solutions today at 877-843-5767.
Mention code: "Ransomware Prevention" for a FREE Network Vulnerability Assessment.